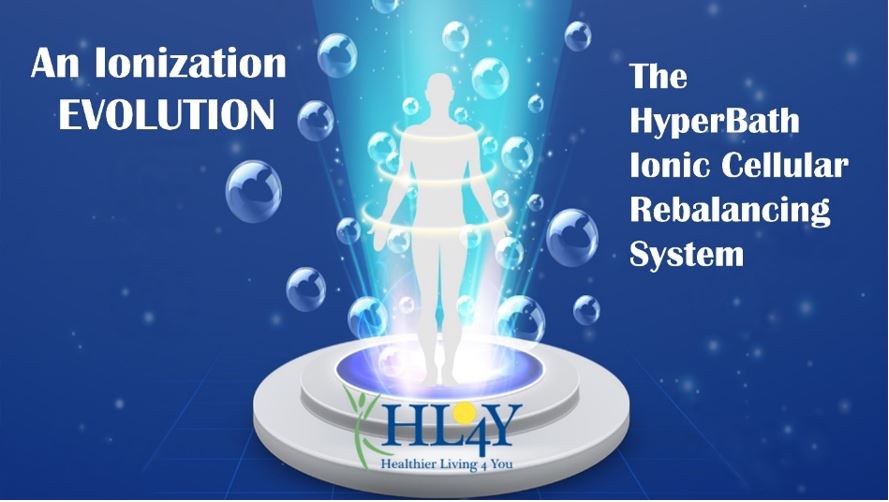 The Hyperbath Pro
- an Ionic Cellular Rebalancing System
The HyperBath Pro is not just for detoxing any more!  Today's advanced technology has given us a broader and deeper understanding of the world we live in and the life that we are experiencing in these human bodies.   
At Healthier Living 4 You, we have been on the forefront of Ionic therapies for over 20 years, and we have seen a wide variety of positive, life changing moments with some very challenged clients. Today we are celebrating the advancement of Ionic technologies with our HyperBath Pro, full body Cellular Energy Rebalancing System.  It is a  beautiful, relaxing and  restorative hydrotherapy process.
Our system provides a complete re-balance of the body's cellular energy helping to improve your health,  and invigorate your energy by stimulating the body's detoxification processes and charging the electro-magnetic fields.
Charged Ions are responsible for sending and receiving the signals that are needed to move every part of our bodies. When our cells fail to get the hydration and protein they require to operate, they become constipated, dry up and stop producing ATP (Energy).
Our painless cellular boosting process sends millions of Charged Ions into your body through the large pores in your feet, where the circulatory and lymphatic systems pick them up and transport them throughout the whole body.   
And just like that, your vitality and wellbeing is restored!
Experience it today!
The HyperBath Pro is available in 4 different packages:
HyperBath Pro for Business
HyperBath Pro for Growing Business
HyperBath Pro for Personal Use
HyperBath Pro for Families