Instant Sunless Tanner by Pretend Tan
Pretend Tan – Sunless Tanner products are the best on the market!
These Products were created with natural oils and alternative ingredients in favor of a safe and fun tan for all seasons! While providing you an even all natural looking tan without stepping into the sun.
The #1 selling product is the Sunless tanner, Instant Self Tan Bronzing Mist.  The Bronzing Mist is Paraben free and is very effective at providing you with a tan that looks natural and can last up to 7 days.
Pretend Tan also offers a Pre Tan Enzyme Exfoliator which helps gently exfoliate the skin to help create a visibly smoother and more revitalized skin.  You may use as a pre-tan treatment or on its own for wonderful results.
The Sheer Shimmer Oil will extend the lifetime of your gorgeous sun-kissed bronzes.  Sheer Shimmer Oil is your go-to product when you want to help enhance the beauty of your Pretend Tan, or go for a natural bronze glow.
Pretend Tan Complete Package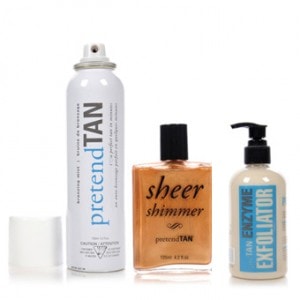 Reg: $113.97
Sale Price: $99.97
You Save: $14.00 (12%)