DKN Vibration Trainers
DKN Vibration Trainers are widely used in homes, physical therapy, rehabilitation, gyms and professional sports. Without having a 30-minute workout and a 30-minute massage, you can achieve the same results in less than 15 minutes while standing still and watching TV!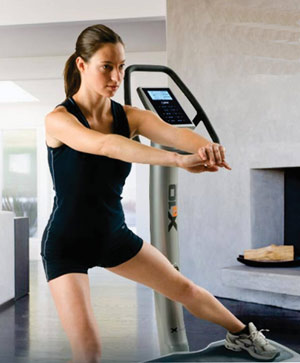 Similar to a massage or workout, a whole body vibration exercise machine helps improve blood circulation and enhances lymphatic function. The lymphatic system is a network of ducts and conduits that removes toxins and supplies germ-fighting nutrients to the muscles. Unlike the circulatory system, which has the heart serving as a pump, the lymphatic system relies solely on muscular contractions to circulate fluids. When the lymphatic system gets blocked, it fails to eliminate toxins that can cause depression, fatigue, and chronic health problems like joint and muscular pain.
Proper lymphatic drainage prevents the accumulation of harmful toxins in the body's systems, including the respiratory, circulatory, muscular, and endocrine system. Drainage increases the production of good hormones, including endorphins, serotonin, and collagen, and helps improve flexibility and range of motion. This reduces stress and physical pain while achieving a slimmer and tighter body.
Informative Resources on Whole Body Vibration (WBV)
To achieve overall wellness, we offer different models of DKN Vibration Trainers that are designed to meet your unique fitness goals.
About DKN Vibration Trainers
DKN Vibration Trainers are today's top-selling Vertical Vibration Plates. Featuring an all-steel construction and built-in digital screen coach for excellent durability, these have a sleek and compact design that occupies less floor space, making them ideal for the home, office, spa, gym, and assisted living centres.
These trainers provide an efficient and effective workout not just for avid gym goers, but also for people running on a busy schedule. They give the benefit of a hour workout in just 10 minutes. You can train a minimum of three times a week for 12 to 24 weeks and see immediate results.
These machines help accelerate weight loss and achieve a more toned body. The appearance of cellulite is controlled, which leaves you with smoother and tighter skin. Other benefits include improved balance, strength, flexibility and endurance, increased energy levels, better mental focus, and improved sleeping habits. Additionally, blood circulation is improved, bone growth is stimulated, metabolism is enhanced, and the recovery of injured muscles is sped up.
At Healthier Living 4 You, we offer top-quality equipment for any application. We offer the best pricing on various models of the whole body vibration machine plus a two year warranty on DKN machines and a lifetime warranty on the steel frame. You can trust us to help you achieve your fitness, lifestyle, and wellness goals.
Call us at 1-866-745-5743 to order a whole body vibration exercise machine. We provide free shipping to Canada and the USA!