Are you looking for some healthy breakfast ideas? Have you ever tried an alkaline breakfast?
Have you ever wondered whether your diet is acidic or alkaline? Most of us do not even care whether our diet is acidic or alkaline. But, the fact is, that is something we need to care about.
As you know, the foods that we eat have a great impact on our body. Eating foods which are more alkaline can promote our health. But, you do not have to suddenly change your diet and just eat raw vegetables. Yes, that's what most people think of when they hear about changing their diet to more alkaline.
The truth is, eating alkaline foods does not require you to do extreme measures. There are simple ways you implement this into your life. And when we say simple, it means you can prepare and make these things right in the comfort of your home, even for breakfast.
Below is one of the best alkaline breakfast ideas you should try. Not only does it taste great, it also offers a lot of health benefits.
So, are you excited to try it? Go on and start your day the healthier and right way!
Apple and Quinoa Fusion
Apple is a good source of alkalizing minerals namely calcium, magnesium and potassium. The mentioned minerals may help relieve symptoms of acid reflux.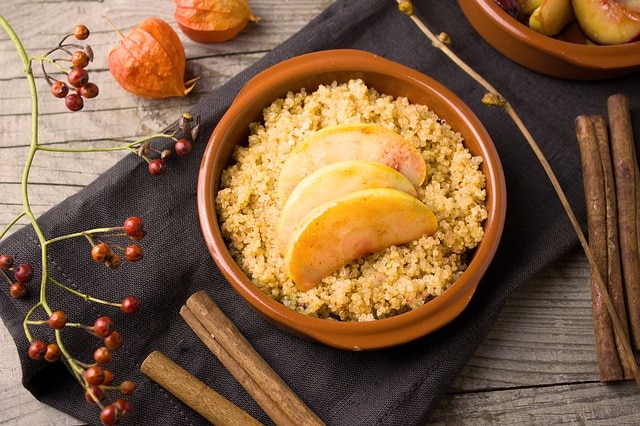 On the other hand, quinoa is a versatile food which provides complete protein. It also helps the blood to keep a healthy pH level.
The combination of apple and quinoa is indeed a healthy breakfast. To add up, it is a fusion of taste which your taste buds will really enjoy.  So, here's how to make it!
Ingredients:
1/2 cup of quinoa

1 apple

1/2 lemon

cinnamon
Instructions:
Cook quinoa according to the instructions at the back of its packet. Just add the proper amount of water.

Let it boil and simmer for 15 minutes.

Then, grate the apple. Add it on the quinoa and cook for another 30 seconds.

Squeeze your half to one full lemon juice on and mix in the quinoa.

Serve it with a sprinkle of cinnamon on top.

You may also choose to add raisins if you like.
There you have it! It is very simple yet so healthy and delicious.  All can be done while getting the kids off to school or while you're getting ready for work.  Enjoy!
P.S.
Aside from alkaline foods, you can also opt to drink alkaline water. Once you start enjoying the taste and benefits of alkaline water, you'll be wanting more.
Not sure how or where to get alkaline water? No need to worry. You can enjoy the many health benefits of alkaline water in the comfort of your home as well with the help of the AlkaPitcher.
The AlkaPitcher alkaline water filter pitcher is an easy way to start making Alkaline water instantly.  It simultaneously helps to filter out chlorine, fluoride, arsenics, organic pollutants, sediment, and pesticides while improving your waters taste and eliminating odors. This alkaline water machine is an amazing product that helps everyone drink more pure, filtered, alkaline water!
Click here to learn more about the AlkaPitcher and how you can make pure filtered alkaline water for just pennies a day.